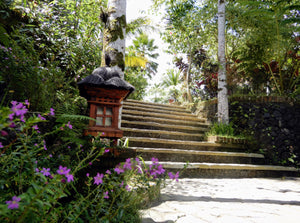 Thank you for reading about my journey in Bali, Indonesia. The greatest gift in this story is at the end ... the impact a man from the US had on a man on the other side of the world ~ Bali, Indonesia. Enjoy!
Photos throughout this blog excitedly taken by Debbie Fox.
Actually, I've been here for several days and it's about time I sat down to write this blog! It's been a whirlwind since stepping off the plane. Bali is nothing like ... exactly like ... far exceeds anything like ... I imagined it would be.
Travel time to Bali tallied 35 hours door-to-door; starting from my home in the U.S. near Denver, Colorado, ending at my final destination, One World Ayurveda in Ubud, Bali. Honestly, travel wasn't as bad as I expected on flights taking me from Denver to San Francisco, and then out of the country to Taipei, Taiwan and ultimately to Denpasar, Bali, Indonesia. Tired from long days leading up to boarding my first flight, sleep came easily.
Thankfully, my travel strategy paid off. Booking aisle seats gave me a bit more wiggle room in the confines of coach class. Plus, years of yoga allowed my body to contort uniquely in the meager square footage surrounding my assigned seat.
Enough about flying. Let's advance to my arrival at the airport in Denpasar, Bali.
After clearing customs, I approached the airport arrivals area where 100+ drivers stood shoulder to shoulder. No exaggeration! They were all holding signs with names of arriving travelers. I was grateful then for detailed instructions the resort sent me in advance making it easier to find my driver.
Holding a sign with the resort name, Wayan greeted me with a warm smile as if good friends reuniting. He also appeared to easily recognize me among the sea of travelers. (Had I sent my photo to the resort?)
Regardless, Wayan efficiently escorted me to his vehicle and we began the 2-hour drive to the resort.
This is my first trip to Indonesia and I did not expect so many people! Another resort guest told me that Bali is not nearly as populated as other Indonesian islands. Bali's 4+ million residents crowd the streets with automobiles and scooters. Plus, everything about driving is opposite in Bali than in the U.S. – drivers seated on the right side and vehicles driving on opposite lanes of the road. I was grateful for my passenger status, quickly trusting Wayan's keen ability to navigate traffic.
Nothing like I expected seeing in Bali were the number of scooters and free-for-all driving. Synchronized chaos buzzed around our vehicle the entire drive to the resort. Drivers were of all ages, many surprisingly young, most wearing helmets and others helmet-less. Several toddlers were precariously seated either in front of the driver (sitting between the driver's legs) or behind the driver (arms clutching tightly around the driver's waist). No seat belts! I'm thinking of several friends, moms with young children, who would gasp witnessing this scene.
The constant crisscrossing of automobiles and scooters had the boldest drivers winning the desired space on the road. Wayan compared driving on the streets of Bali to driving in a video game. Spot on, Wayan! Our 2-hour drive felt just like that, driving in a video game the entire way until we finally turned onto a peaceful road leading to our intended destination.
Ah, at last, everything I expected appeared before my eyes ... One World Ayurveda
OWA nestled in dense tropical vegetation. Breathtaking flowers, bushes and trees with every gaze.
Scattered throughout ... gardens planted with vegetables and herbs supplying the resort with ingredients for cooking and making herbal compounds used in holistic treatments. Stone pathways winding down steep slopes inviting guests to the resort's many tiers of lodging. Sounds from fountains, streams and nature alive in the forest. My senses were pampered causing my biggest smile to organically appear on my face!
I definitely made the right choice selecting this resort to receive a medical detox needed from months of illness in 2017.
The ah's continued as the resort guide escorted me to lodging; my home-away-from home for nearly 3 weeks.
Luxury welcomed me as I entered the room. Natural interior finishes – marble floors, floor-to-ceiling slate lining the walls of the walk-in shower, furniture made from teak and natural woods. A king-size bed covered with crisp white linens, multiple pillows and mosquito netting pulled down at night along with turn-down service before sleeping.
Placed in the changing room were green cotton robe and slippers. Neatly folded Sarongs to wear for treatments because the herbs and oils applied on the body easily stain clothing. White linen Kurta pajama to wear for leisure around the resort. Very little personal clothing is needed for this trip, which made packing easy ... my suitcase primarily filled with yoga clothes for daily yoga sessions in the morning and again late afternoon.
A simple wooden desk situated in front of a window overlooking the pool, its drawers stocked with art supplies for coloring and painting during relaxation times between scheduled treatments. Elegant cooper pitcher with matching cup used for drinking, allowing minerals to leach into water helpful for the body. Welcoming accessories throughout the room
Can you sense the care and attention to detail by the resort owners? 
To my great pleasure, there's a comfortably-sized balcony also with views of the pool and open-air yoga Shala just below. Completely surrounded by dense tropical vegetation, a tiered rice field awaits just around the corner. The balcony table and chairs, padded teak bench stacked with accent pillows make it my favorite spot for reading and writing.
Yes, this resort will do quite nicely!
So, what's taken me so long to write this blog? Time. I needed the space of time to process all I've experienced in a few short days. The newness for me of this mystical place. Bali's culture steeped with tradition. The significance of religion to the Balinese people; Hindu, the predominate faith, the importance in going to Temple daily to pray and offer gifts, and statues placed on every corner to protect villages.
Wayan and others I've met have shared so many interesting insights with me in my short time here in Bali:
>> Villages specialize in specific trades, such as artist painters in one village, silver makers in another village, so on and so on.
>> Families cook one meal in the morning large enough to be eaten the entire day. No other meals are prepared and no times assigned for the family to eat together, such as breakfast, lunch or dinner. Each person eats on their own when hungry.
>> Extended members of Balinese families live together until death. And when a couple gets married, the woman leaves her family to live with her husband's family. Example, there are 25 family members living together in the home of the resort's yoga teacher.
>> Bali has a caste system with four levels; a class structure determined at birth. The caste level a person is born into defines their place in society for the rest of their life.
>> Each caste level has specific naming rules, meaning names are predetermined at birth based on gender and birth order.
I'm a curious student of world religions and it's a privilege for me being in Bali learning about their chosen religion, Hinduism.
Interestingly, Muslim is the predominant religion in Indonesia.In my few days in Bali I've been to a Hindu temple for a purification ceremony. Spent time with a Balinese healer as a result of my infatuation with the book and movie, "Eat, Pray, Love".
Unfortunately, Ketut, the Balinese healer in the movie, died at the age of 102. Wayan, my driver and tour guide for one day drove me to a Balinese healer allowing me to create my own version of the "Eat, Pray, Love".
As my limited amount of touring came to an end, I started the intense, 10-day Ayurveda Panchakarma cleanse; the primary reason I traveled to Bali. Ayurveda is the holistic lifestyle I chose for myself nearly 5 years ago. Most intriguing about Ayurveda to me is treating the mind, body and spirit ... more than a diet. The detox program includes yoga twice daily with classes given in a beautiful open-air Shala overlooking rice fields.
I'll write more as time goes by and also share photos (photos in this blog taken with my camera). Until then, I'll leave you with what's inspiring me most so far about this trip.
More than expected, the Balinese people are some of the most authentically gentle, soft spoken, respectful, spiritual people I've encountered.Looking at their beautiful faces—rich brown skin, dark brown eyes, full lips—framed by thick, lush hair has one looking straight into kindness. You do not need to pay close attention to understand this about the Balinese.
As I'm settling into my detox program, I'm calming down, in spite of the full daily schedules. Being calm is a big part of healing (note to self when returning home). What stands out most to me now are the abundant gifts. Gifts are available every day of our lives when we pay attention.Gifts on this trip for me begin with simply being in Bali ... typing on my laptop from a balcony overlooking the tropical forest, sounds of nature entering my ears, sitting comfortably wrapped in a Sarong, my hair oily from a Shiro Dhara treatment intended to calm the mind, feeling the gentle breeze brushing against my skin.
The gift of time for reading. I've managed to crack open and begin, "When Things Fall Apart" by Pema Chodron, whose wisdom like other insightful authors fills up people like me who crave knowledge and perspective.
The Gift to observe "FLOW" in action ... 
My driver, Wayan, whose face was the first to greet me at the airport arrivals. Looking at Wayan's business card as I'm writing reminds me of a story he told me.Wayan's name was given to him at birth, predetermined by the level-4 caste system he was born into and firstborn son position in his family. Wayan also has a nickname, I've unfortunately forgotten. He's married, which means his wife left her family to live with his family.Together, Wayan and his wife have a one-year-old son whose nickname is Michael, this name selected by Wayan and his wife because of an American man they know. Wayan's face lit up when he told me this story! Wayan knows Michael through a non-profit organization Michael co-created with his wife:The Heart, Mind & Soul Project founded by Kathryn and Michael Schlesinger. Their website includes this description:
The HMS Project is a grassroots organization founded on the premise that by gathering the service and resources of individuals we can make positive contributions both locally and globally. In so doing, we hope to inspire everyone's potential to live a life more awake, aware and alive and create a wiser, healthier and more harmonious world.
The words that pop out for me in this description are – live a life more awake, aware and alive.
W H O L E H E A R T E D L Y !
Michael Schlesinger must be a special man for Wayan to have selected that nickname for his son.Are you feeling the respect and honor flowing out from this story? The ripple effect a man living in the U.S. has on a man living on the other side of the world?
Yes, we do matter and how we live our lives does impact others whether we realize it or not.
I will end with this quote that appears on Wayan's business card:
"When the Heart is awake we know love,
when the Mind is aware we learn truth,
when the Soul is alive we experience the Divine."  
~ Unnamed Author
Fill in the blank with "Divine" respecting we each choose what's right for ourselves.
Thank you, Bali, for introducing me to your people and for the privilege of learning, witnessing and experiencing your many lessons. 
Thank You for Reading this Far! 
EMBRACE the FLOW of LIFE!
Follow FLOW with Debbie Fox on this website for updates, and on Instagram, FaceBook and Tumblr @flowwithdebbiefox for daily inspirations. Thank you for sharing this story with your social networks!