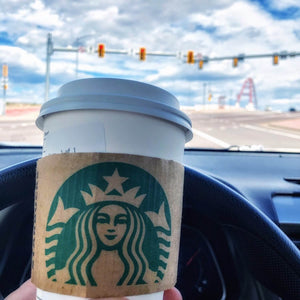 Thank you, Starbucks, for empowering your team to make on-the-spot decisions!
Driving between meetings with a welcomed sliver of time, I stopped to purchase a self-indulgent beverage from Starbucks. Ah, the pleasure sipping coffee while driving towards Boulder – Colorado's Rocky Mountains hugging the landscape to the west, blue sky, billowy clouds and sunshine above. Glorious!
With my Starbucks' order placed, I advanced to the window to pay and collect the custom-made beverage.
Hold the phone. Literally. The Starbucks app isn't signing into my account. That's strange. I regularly use this app with preloaded $$ and rewards tracker.
The barista explains customers were logged off the app as Starbucks launches a new program. Ah, that explains what's happening.
Okay. Time to sign back in to the app. Simple enough.
Password required. Touch ID isn't working. Hmm, I wonder which password to use? One password attempt, then another … no Bueno.
The barista observes with a pleasant smile on her face, completely calm, fully engaged and empathetic about my plight. Me? Anxiety level begins to rise. (Really? Am I beginning to panick over an app and cup of coffee when there are real world problems? It appears I am.)
Here comes the juicy part of the story. Empowerment!
The barista is empowered by her employer, Starbucks, to make on-the-spot decisions for customer satisfaction. In this story she proclaims to the customer (yours truly), "Don't worry, this one's on us."
A smile appears on my face with traces of disbelief.
"Really?", I say.
"Yes, this one's on us.", she reassures me.
Ah, there is civility in the world after all. World peace is just around the corner. Do you feel it?
You can bet I'll remember this experience. You can bet my Starbucks loyalty is solidified (disregard the fact I'm already addicted). You can bet I'll publicly proclaim my appreciation (hence, this post).
Corporate execs reading this story, especially those in the C-suite, please take note. Empowering teams to make decisions on the spot appeasing customers reaps bountiful rewards. Stories such as this may bypass the boardroom, they also may land directly on this multi-faceted platform thing called Social Media ... most assuredly a revenue attractor or detractor.
Important Takeaway
Beating the drum. What we do matters. Individually, collectively, as organizations. How we show up in the world is our superpower. Every single day opportunity presents itself to put our mark on the world as difference makers, consciousness expanders, contributors to elevate the human condition one step, one smile, one act at a time. Even with a simple cup of coffee. The choice is yours.
Go Humans!
Thank you for reading this far.

 
EMBRACE the

 FLOW of LIFE!
Follow FLOW with Debbie Fox on this website for updates, and Instagram, FaceBook and Tumblr @flowwithdebbiefox for daily inspirations.
Thank you for elevating humanity and sharing this story with others!