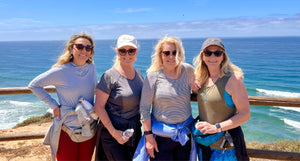 Pictured: Karyl, Holly, Cindi, Debbie
"We need the sweet pain of anticipation to tell us we are really alive."
~Albert Camus
Crisp, ocean breeze blew through the patio door filling the room with salty scent. In response, deep, rhythmic breaths kicked in accompanied by the sound of gratification ... ahh.
Anticipation eagerly magnified knowing friends would soon walk through the door. Traveling from various places for time together in Southern California, the scene now set for their enchanting time by the sea... groceries stocked, reservations made, activities planned.
Several years had passed since the group traveled together. Once complete strangers, their connection swiftly transitioned to deep friendships, largely from their shared tragedies... the type of life circumstance forming bonds from understanding. For these friends, widowhood was the mutual story. They met years ago in another enchanting location, Carmel-by-the-Sea, while attending a restorative retreat curated precisely for the tribe they would become.
Devoted friends, they supported each other through the labyrinth of grief and now comfortably embrace their impenetrable bond of sisterhood. Sadness was not packed for this trip. In its place, joy was the emotion that traveled with them, having permitted joy to reentered their lives long ago.
And so, the planned week by the sea organically unfurled. Morning coffee sipped while slouched in easy chairs near vast windows overlooking the ocean. Casually adorned in loungewear, glamour tossed aside until later in the day. Deep conversation and light chatter heard throughout barefoot strolls along sandy beaches, robust hikes on seaside slopes, sailing, hot tub soaking, boutique shopping. More coffee and specialty lattes topped with frothy foam, craft cocktails, gourmet meals, bottles of wine uncorked in trendy restaurants...
You get the idea, and I'm betting easily tapping into one (hopefully several!) of your own experiences.
The atmosphere was jovial, filled with laughter, jeering, fashion and makeup critiques, chatter about family, relationships, dating, future experiences anticipated. Any topic fair game as trust earned from years together permitted raw, always loving truth-telling. Their bond created a rare oasis... the essence of safety protecting them from life's challenges.
When their final day together appeared, warm comfort enveloped them. An invisible bow imagined... gracefully tied around the gift of precious time together. Friends open to each other, willing to receive slices of fairytale life fueling their courage to live fully.
Love and gratitude were exchanged as they tightly hugged each other goodbye. Fairy dust from yet another shared adventure departed with them... sufficient to lean into on days when life is hard.
Ah yes, Anticipation. Anticipation gleefully went with them. Anticipation for next time together looming in their future. Until then, they will bask in warm embers from memories made and scroll through photos snapped capturing their pure joy.
xx
Debbie Fox 
*This story is lovingly dedicated to the Paisley Project ladies attending the original restorative retreat, and encouragement to all who followed them: Cindi, Debbie, Julie, Karyl, Holly, Monica. And to Barbara and Doug who opened their home making the formation of this tribe possible.
**To any reader experiencing tragedy of any kind: May this story fill your soul with possibility; the possibility that slices of fairytale life await beyond your pain. 
Thank You For Reading This Far!
We appreciate your support by commenting with your feedback and sharing this story with others 🥰
an Inspiration Lifestyle Brand
We do not sell access to our customer or subscriber data.