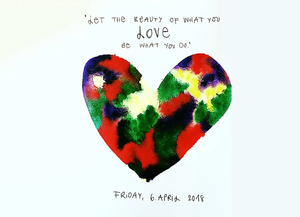 April 6th. Just another date on the calendar for many. Significant to me because it marks the date my husband, Mike, died. Five years [2018] have passed since then. Thankfully, my grief lessened along the way transcending to acceptance.
By this point I've lived long enough without Mike to become comfortable in my redesigned life. Tears of remembrance occasionally fall, mostly reflecting gratitude and appreciation for the love we shared. We were one of the lucky couples who experienced the deepest love possible – a perfectly, imperfect marriage.
This year [2018] the 6th of April is different from the previous four because I'm "alone" in Bali, Indonesia – 9,100 miles away from friends and family, as many as 15-time zones between us. I'm visiting an all-inclusive Ayurveda resort with a dozen other guests; complete strangers who, like me, traveled a great distance seeking medical restoration. Although our individual medical conditions are as unique as each of us, it didn't take long before what we shared in common created an environment of closeness progressing acquaintances to friendships.
I mentioned the significance of April 6th to some. There wasn't much conversation around the subject. After all, none of them knew Mike, or at that point me for that matter. No emotional connection bound us. The guests were, however, empathetic and understood the significance of the day for me. 
April 6th arrived like clockwork. I reflected on memories of Mike, the expected tears flowed and eventually stopped as sadness shifted to loving memories.
As I awoke that morning, nestled comfortably in bed, the sound of a bell in the distance reverberated throughout the resort signaling guests to rise and shine. 45 more minutes until yoga. Traditional yoga offered morning and night in an open-air yoga Shala overlooking Bali's famed Tegallalang Rice Terrace. Dutifully responding to the bell, I stepped out of bed, changed into yoga clothes and walked a short distance to the yoga Shala.
As I selected a yoga mat, a lovely guest, Sarah from Switzerland, approached me. A warm smile graced her beautiful face. Sarah's arms outstretched as she handed me a paper scroll delicately tied with a single strand of thread.
Unrolling the scroll revealed a multi-colored heart Sarah painted with watercolors available in each guest's room. On top of the paper Sarah inscribed this quote:
"Let the beauty of what you

LOVE be what you do."

~ Rumi
Below the heart Sarah penned the date ...
~ Friday, 6 April 2018
As I embraced Sarah with an appreciative hug, the realization of her gift sunk in. I was the recipient of a random act of kindness. My heart warms every time I reflect on that moment when Sarah's heart touched my soul.
Equally touching was her personal inscription etched on the back of the painting:
A random act when an acquaintance not only paid attention to my emotional vulnerability but also took action tapping into one of her many gifts – applying brushstrokes of paints to paper creating a heart symbolic of the love lost when Mike died. Inscribing Rumi's quote, a call to live life forward, "Let the beauty of what you love be what you do."
Sarah also knew I was embarking on a new business venture creating FLOW, publicly proclaiming inspirational writing my passion – the beauty of what I love is now what I do.
Can you imagine how I felt in that moment? How I feel now? How many future 6th's of Aprils I'll remember Sarah's random act of kindness?
Sarah Madeleine Kappeler, a beautiful, kind woman from Switzerland. A professional singer and stage performer publicly sharing her talents with the world. Empathetic, purposeful and intuitive privately sharing her heart with another woman (me) from the other side of the planet.
Sarah helped diminish my feeling of being alone that day. Unknowingly, she also honored Mike through her random act.
I was not alone April 6th. I'm never alone, really, because even though my family and friends were 9,100 miles away on that day, I was on their minds and in their hearts. And so was Mike.
While those who knew Mike may have forgotten the exact date of his death, when reminded they most certainly remember Mike's bodacious smile, easy manner and lighthearted, gentle spirit.
Here's a key takeaway, dear readers. What we do does matter.
Acting on a feeling, an emotion, letting our intuition guide us all provide opportunities to create countless ripples. How simple random acts of kindness can be. As simple as placing a smile on our face when greeting a complete stranger. Allowing a person to go in line in front of us. Opening doors for others. Helping someone with an armload of packages. Painting a heart on a blank sheet of paper. Fill in the blank with endless opportunities to express kindness, privately and publicly, sharing our hearts with the intended and unintended outcome lifting the spirit of another.
The final evening before Sarah departed the resort she graced us with her beautiful voice. Singing a cappella in her native language, German, I did not understand the lyrics. As her emotions flowed through her angelic voice, it was apparent Sarah was singing a love song ... her expression reflective, head tilted, eyes closed. Sarah skillfully allowing her gift of voice to flow outward, pausing long enough here and there offering space for music to penetrate the air, her emotion reverberating straight into our hearts. Loving. Touching. Memorable.
A Call to Action – Pay It Forward
How can we help someone in need, today and every day?
Acts – random, intentional, planned and unplanned

Kindness – considerate, helpful, gentle and loving
Sprinkle your sparkle near and far, with notice and as importantly without notice.
Sarah, thank you for that moment in Bali permanently etched in my mind. Our souls connecting because you took time to notice and act in a way that continues to touch me still.
You too are strong, wonderful and vulnerable. You too are woman. We both understand the meaning of those words because we've lived enough life to acknowledge and honor the strength that comes from vulnerability.
Please enjoy these YouTube videos showcasing Sarah's talents, on stage and off. And then imagine yourself positioned next to Sarah on a yoga mat as I did in Bali; her voice emitting beautiful chants and sounds of om.
Thank you for reading this far.

 
EMBRACE the

 FLOW of LIFE!
Follow FLOW with Debbie Fox on this website for updates, and Instagram, FaceBook and Tumblr @flowwithdebbiefox for daily inspirations.
Thank you for your random acts of kindness and sharing this story with others!